English:
Espanol:
Para instrucciones en español vaya a: ClassLink- Como configurar la Autenticación Multifactor en ClassLink
When you first login to ClassLink, you will be prompted to setup Two-factor Authentication using a security image. Click on the "?" and follow the directions to select your image. Once you are logged in follow the next section to setup SMS or a Mobile Authenticator.
Note: The "Image" two-factor option is available to you but is not as secure as the other options. The district recommends that you do not use that if you have access to a device that can be setup for SMS or Mobile Authenticator.
To get to your Two-Factor settings click on your profile icon, in the top right of the ClassLink Dashboard, and go to "SETTINGS".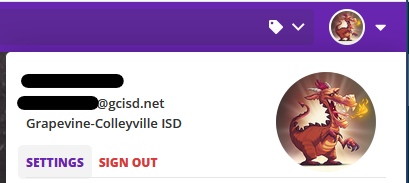 In your profile go to the "Security" tab and turn on "Enable Two-Factor..."
Select the Authentication method you wish to use. Detailed directions are bellow.
Mobile SMS:

GCISD Recommended Method



If you choose mobile SMS, you will be texted a code that you will have to enter in order to login in. Note: Mobile messaging rates may apply.

1. Click on "CONFIGURE"

2. Enter your Mobile Number and click the "Save" button. You will be sent a verification code to confirm your number. Enter the code and click "Submit"
3. When you sign into ClassLink you will be sent an authentication code. Enter the code to log in.
Mobile Authenticator App:
If you choose the Mobile Authenticator App, you can connect Google, Microsoft, Authy, or LastPass authenticator apps.
1. Click on "CONFIGURE".

2. Open your Authenticator app and scan the QR code. Enter the generated code to verify your account and click "Save"
3. When you sign into ClassLink enter the code from your app to log in.
Note:
If you have forgotten your Two-Factor preferences and need to have them reset please contact the Help Desk or submit a help ticket.