DUO is a cloud-based authentication service that increases the security of online accounts by making it harder for an attacker to impersonate an authorized user. DUO's authentication factors are the username and password (something the user knows) and a device (something the user has.) An attacker may be able to steal or guess the username and password but without verification from the user's device will not be able to use the login information.

You'll set up DUO in your Classlink settings and on your personal cell phone or district issued iPad. It's easy and only takes a few minutes. IMPORTANT: You can only set up ONE mobile device for authentication and you'll need this device nearby any time you log in to district resources.
Section 1 - Download The App
Download the DUO Mobile app to your phone or tablet. The screenshot below is from an iPhone but the name and icon are the same on an Android or iOS. If you are not able to install the app please do not continue with these directions and submit a help ticket.


Your device must meet the minimum OS versions bellow.
Please update to the most current version supported by your device.
iOS - 12.0
Android - 8.0
Duo Mobile will be available for download in Meraki to staff enrolled iPads. You may choose to use your district iPad or your personal device but not both. Be aware if you choose a district iPad you will have to have it with you each time you're prompted to authenticate.
Log in to Classlink on your computer.
Click Start Setup.
For mobile phone setup, please go to section 2.
For tablet setup, please go to section 3.
Section 2 - Mobile Phone Setup
Click Mobile Phone then enter your phone number.
Skip down to section 4.
Section 3 - Tablet Setup
Click Tablet then select if your tablet is iOS or Android.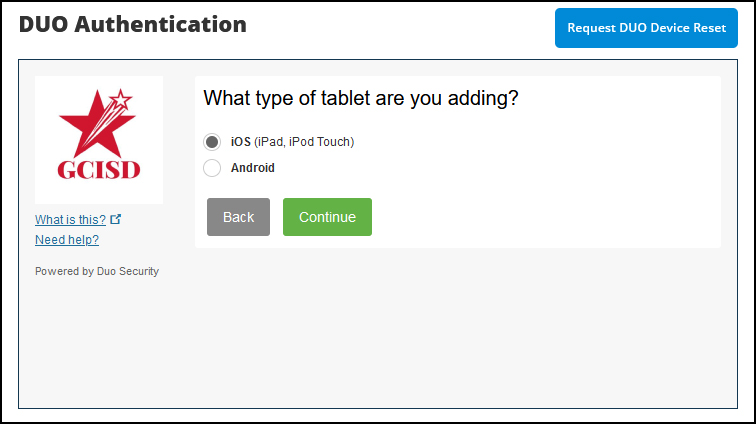 Section 4 - Continue Setup (all devices)
Once you click Continue above you'll get a screen below.
Click "I have Duo Mobile installed".
Next, a barcode will be displayed.
Follow the directions in the next step to scan the barcode with your mobile device.
Section 5 - Final Step
Launch the Duo app on your mobile device and tap Add Account (or + at the top.)
You will be prompted to give camera access to the app then will be able to scan the QR code that is displayed on your computer from the DUO setup steps.
That's all there is to it! Now log out of Classlink and give it a try.
Section 6 - How It Works
Log in to Classlink and you'll see the window below.
Click on Remember me for 30 days then click Send Me a Push.
(Note: When the Remember me box is checked, you will not be prompted for DUO authentication for 30 days as long as you are logging in on the same computer and browser. If you need to use another computer or browser to log in, the Remember me box will need to be checked again.)
IMPORTANT: For security reasons please do not select the "Remember Me"
option on the Newline displays.
Depending on how you have your notifications set up, you'll get a banner or some type of notification to tap on. You can also just open the app.
Tap the Approve button and you'll be logged in.
It's that simple to protect your data!
FAQs:
Will I be charged to authenticate with my personal phone?
Push authentication with the DUO Mobile app is a notification that uses an extremely small amount of data to function. This is not a text.
I sometimes don't have cell service in my building or when I'm out of town. How can I use DUO to authenticate in that circumstance?
If your registered mobile device does not have a data connection due to location or signal issues, there is also an option to generate a passcode on the device which does not require an internet/data connection. To use this feature, click the Use a Passcode option instead of the push option when logging into your account. Then on your mobile device, open the Duo app and tap on the account name to see the passcode that you'll enter on the login page.
Does DUO see my password?
No. We verify your account password with our internal systems and never send it to DUO. DUO provides only the second factor (the "something you have") to verify it is actually you logging in to the system.
What are DUO's privacy policies?
For information about privacy of the Duo Mobile app, please visit this website:
https://help.duo.com/s/article/4683?language=en_US
Can I opt out of DUO?
No. Multi-factor authentication adds a second layer of security to our online accounts. In an effort to keep GCISD systems and account information secure we are requiring this feature for all staff users.
I've purchased a new device or want to change devices. What do I do?
You'll need to submit a helpdesk request or call the helpdesk to have your Duo device reset.
I am not receiving any push notifications.
More then likely your notifications for the DUO app have been disabled. Go to you system settings and enable notifications for DUO. Note: The following links will open an external webpage.
iPhone - Change notification settings
Android - Change notification settings